KOMIKON 2005!
Well, I'd say it was a success, since all tickets were sold out and they had to let people in by just stamping their wrists. It was the first time I got a booth/table and it was kinda draining but fun. I didn't get to roam around the Komikon much because I had to man my booth.
I got to meet all the artists and writers that I usually get to communicate with only online. Edgar Tadeo, Ner Pedriña (who bore a faint resemblance to Jet Li in person), Gilbert Monsanto (with his wife, Glenda), Reg Ting... And got to meet some people I've met before all over again like Orvy Jundis (who made an impromptu souvenir program), Mannix Abrera, Ryan Orosco, Jonas Diego, Jac Ting Lim and Gerry & Ilyn Alanguilan. Thanks Jac for signing Jac Strips Again (with a li'l Maskarado sketch to boot). Mico Suayan also stopped by, and his works were just awesome!
Also finally got to meet Komikero Ryan Toledo, and I was pleasantly surprised that he was a big Maskarado fan. He asked for a sketch and I gladly obliged. Also got to meet fellow Thursday Web Ring-er Jerald Dorado.
Some other folks I met...
Lico Reloj... oh, sorry... the Fifty Peso Ninja stopped by the booth. Glad he didn't make with the slicey-dicey.
Meyo de Jesus, Mario Macalindong and the Guhit Pinoy folks. Awesome works!
Mrs. Coching, it was a pleasure talking with you. Jun Lofamia, one of the legends. My only regret is that I didn't get to have my picture taken with them.
Tabloid Komiks contributors Tatum Milambiling and Josel Nicolas also dropped by (though not together. hehe). Josel's work will be featured in an upcoming issue. Thanks for dropping by, guys!
My old college buddy Joraz also dropped by, and he's with Glass House Studios now. Hindi ka man lang bumili ng kahit ano! Ilokano ka talaga! But kidding aside, it was great seeing you again, man.
Met with Budjette Tan, Dave Hontiveros, Ka-jo Baldisimo (idol! Galing talaga ng NWA!), Marco Dimaano and old schoolmate Oliver Pulumbarit. Also saw Vin Simbulan of Comic Quest there, along with Andrew Drilon, who stopped by the booth to say hi.
Damn, there are just too many that I can't remember them all.
Thanks too to all the folks who bought our stuff.
Askals also sold very well. Both Bong Leal and Dodo Dayao were there to help in manning the booth.
Thanks also to Kuki, my bro Leander, and my nephew Jappy for helping run things. And too my officemate Arvin for just hanging out (hehe).
Thanks to Dennis Villegas for the Kenkoy book for Jade. I'll make sure to read it to her when she's old enough.
Hmmm... what else happened?
The folks at Fudge Magazine were asking various creators to have their pics taken, and Kuki and me (or would that be "I"?) were glad to oblige.
I also got interviewed by VJ Jmie (did I spell that right?) for ABC 5's Anime Ring Kaisho. I think it'll be airing on November 5 at around 3 or 3:30 pm. Kaya sa mga fans ko, panoorin niyo (Ah-cheh-che!).
RJ Ledesma also stopped by and got my contact info in case they wanted to do something for MANUAL Magazine. Thanks, RJ!
I was also asked by all-around good girl Syeri Baet to be one of the judges of the indie comic contest. It was a pleasure, Syeri.
There was also this guy who had a Blitzworx ID (didn't get his name) who was asking for sketches of pigs in armor from the artists there. I gladly obliged, but still I wonder why...
Got some indie fix, too. Istrong Repablik, the aforementioned NWA, Trese, Askals (of course), Psigns of the Seasons, Lexy Nance & Argus, Kunoichi Boy, Crest Hut Butt Shop (naubusan ako ng Dead Heart Stories... AARGH!), The Blurb, Jac Strips Again... forgot to buy Minsan Sa Panaginip (sorry, Jon! Will pick it up in Comic Quest), and I was tempted to get the collected Cresci Prophecies, but I had to pace myself. I'll get it in the future, Joanah!
I also got Dave Hontiveros' Praman novelette. Will get the other two in bookstores.
Sayang nagka-printing problems ang Blitzworx kaya di umabot yung magazine nila. Pati yung Fantasya anthology ng Psicom di rin umabot.
Congrats to Syeri, Jon, Lyndon and all the Komikon organizers! Sayang you missed it, Ariel!
That's me at my booth, my nephew Jappy behind me (photo by Edgar Tadeo)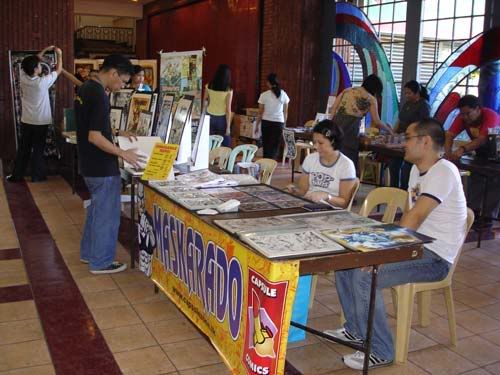 The Maskarado booth with me and Kuki, still early in the day (photo by Gerry Alanguilan)
I'll post some more pics tomorrow. i forgot my camera cable and can't download my photos. Argh!